Crocs cellphone holsters
Topic: CELLPHONES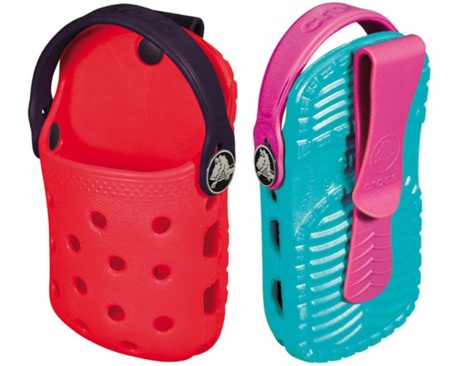 Crocs obviously thinks that if their famous shoes are good for people, they are good for mobile phones as well. Hence, they are launching the Crocs "o-dial", universally-sized mobile device case, designed to share the "look and feel" of the Cayman shoes.
In addition to simple "carrying around" function, the raised inside surface makes sure mobile phone's screen is protected, while an internal accessory sleeve gives owners the option to use it for other items, like IDs, credit cards and/or cash. Plus, let's not forget the patent-pending adjustable strap concept, a strong plastic belt-clip and lanyard — all that make "o-dial" more of a wallet than a mobile phone holster.
Want it? The Crocs phone holsters are available in eight colours (black, silver, red, grape, fuchsia, celery, cotton candy and turquoise) for 6.95 GBP (about $13) each.
Hey, everyone has Crocs, even I've got some; now we've got
Crocs cellphone holsters. Just had to let you know about this.
Thanks to intomobile.com.
Posted by Lamar at 6:00 AM CST